Seda's new processing suite is fully equipped to handle highly active pharmaceutical ingredients (HAPI).
Seda's new bespoke powder handling booths from Mach Aire have now been installed in our processing suite, enabling the safe handling of bulk powders and highly active pharmaceutical ingredients (HAPI) for larger scale (non-GMP) manufacture of solid oral dosage forms, such as tablets and capsules.
The new suite has allowed us to expand our capabilities, and, with a new 30 L capacity Pharmatech powder blender, we can now accommodate the manufacture of large technical batches of tablets and capsules up to 10 kg, with a raft of physicochemical and in vitro testing being carried out in-house.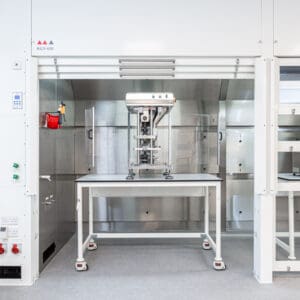 With the increased focus on the development of highly potent APIs throughout the pharmaceutical industry in recent times, it was essential that we included an area dedicated to the safe processing of high potency materials at our new facility in Cheadle Royal. Our two state of-the-art walk-in powder booths allow us to process large quantities of powder, including HAPIs, and carry out the subsequent testing of these formulations with full confidence that we will ensure the safety of our scientists whilst maintaining our high quality of work. This novel approach allows us to accommodate a wide range of processing technologies without equipment-specific containment solutions and gives us the agility to onboard new projects rapidly.
Seda's solid oral dosage design capabilities mean that we are now able to offer a full package of formulation design, manufacture, characterisation and stability testing. We are experienced in developing both direct compression (DC) formulations and those prepared by dry granulation, more specifically roller compaction (RC). A particular focus is on the design and manufacture of enabled formulations to overcome poor solubility (amorphous solid dispersions, lipidic semi-solids etc.).
We offer a wide range of testing and characterisation including:
Bulk and tapped density analysis of powder blends and granules, allowing the establishment of optimum formulation flow properties prior to further processing.
Full uniformity testing of the dosage form (capsule or tablet), including content, press/fill weight, hardness (tablet), and thickness (tablet).
Disintegration time assessment in various media.
Friability (tablet) testing.
Dissolution assessment, under various conditions, including in biorelevant media.
Here at Seda our solid oral dosage services are constantly expanding and we are now fully equipped to handle HAPIs and develop them into effective formulations, adding value to our clients.