Seda Pharmaceutical Development Services are the proud new owners of a top-of-the-range Dynamic Light Scattering instrument – the  Zetasizer Ultra Red Label from Malvern Panalytical. This is crucial kit for nanomedicine characterisation, quantifying potential critical quality attributes such as size and surface charge, and marks a significant milestone in the growth of Seda's offering. It means that, in addition to our well-established consultancy support for the design and development of complex medicines, we can now offer laboratory services to prepare, characterize and optimise formulation prototypes for in vitro and preclinical studies.
The Zetasizer Ultra is a combined Dynamic and Electrophoretic Light Scattering system for the measurement of particle and molecular size, particle charge and particle concentration. Key features include:
Multi-Angle Dynamic Light Scattering (MADLS) for high sensitivity particle and molecular size and size distribution measurements, in the range 0.3 nm to 15 µm. An extension to MADLS on the Zetasizer Ultra Red Label enables direct analysis of nanoparticle concentration.
Electrophoretic Light Scattering (ELS) which measures the zeta potential of particles and molecules, indicating sample stability and/or propensity to aggregate and in vivo fate.
Capillary sizing cells enabling non-destructive, low volume (down to 3 µL) sample analysis.
Thus, in our new R&D HQ and lab complex in Cheadle near Manchester, Seda can perform physicochemical characterisation and formulation prototyping for a growing range of complex drug delivery systems. Using techniques such as nanoprecipitation, dialysis, HPLC and UV-vis spectrometry, differential scanning calorimetry and of course the new Zetasizer, and with access to more complex microscopy and imaging techniques via our network of collaborators, we can offer a comprehensive programme of practical support.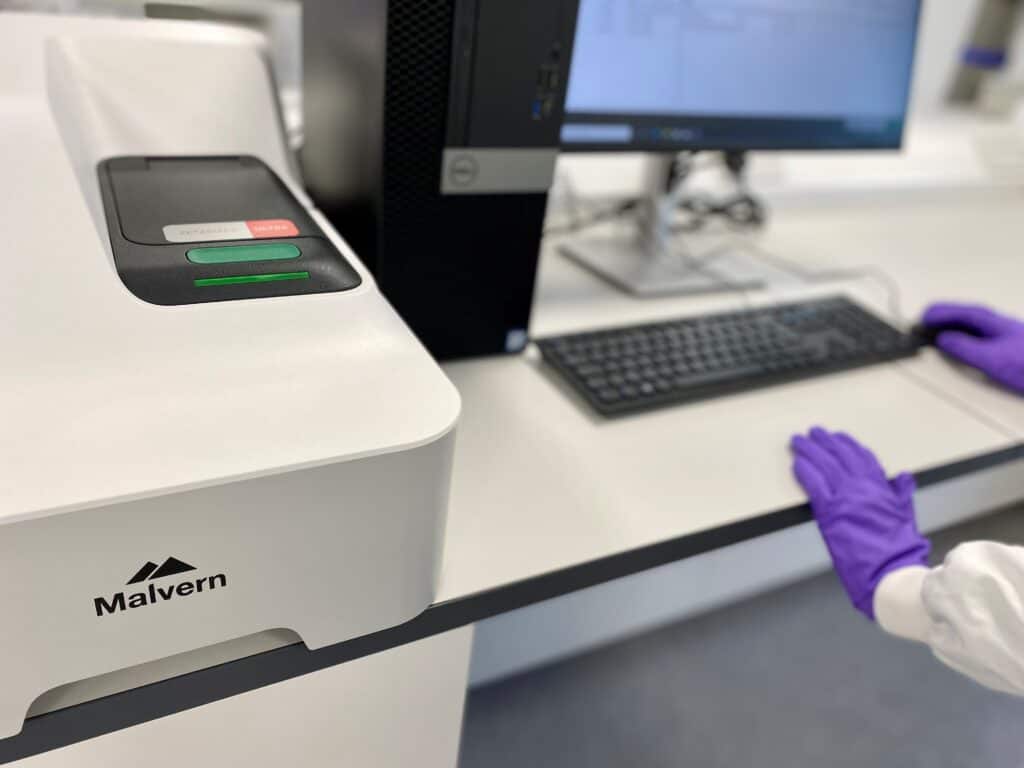 Seda's established consultancy expertise can provide further insight and support if required, with real world project experience in a range of nanotechnology types from discovery through to clinical phases. Illustrative examples include surface-functionalized inorganic nanoparticles, liposomes, polymeric or peptidic nanoparticles and dendrimers, for the delivery of small molecules, peptides and nucleic acids. These have covered a range of intra- and extracellular targets across various clinical indications such as cancer, pain, and infectious disease. Our role can flex according to the client's needs and stage of development, but could include consultancy support to a range of activities including technical due diligence, the generation of Quality Target Product Profiles (QTPP), CMC development planning, product design and characterisation studies and development/scalability risk assessments with additional support for vendor selection and management of third party CROs/CDMOs involved in the clinical supply chain. In addition to our technical expertise, we are also well placed to support interactions with global regulatory agencies including the authoring and review of the CMC technical elements of regulatory dossiers.
Please contact one of our complex medicines experts with any enquiries.