Seda Senior Modelling Scientist, Jake Dickinson, recently attended the Quantitative Systems Pharmacology Conference 2022 (QSP Conference 2022) to present his work on modelling release rates for long acting injectables. Here he shares his reflections on this key event in the modelling community's calendar.
"Stadsgehoorzaal, a beautiful concert hall, in the historic Dutch city of Leiden played host to an exciting, modern art form, QSP. The conference, usually a quadrennial conference, was returning after an 8-year hiatus due to COVID disruptions. There was a buzz throughout the conference as world leading experts returned and young scientists, like myself, attended QSPC for the first time.
The first sessions set the scene; taking us through the evolution of pharmacokinetic-pharmcodynamic (PKPD) to QSP modelling, the current state-of-the art and what the future may hold. QSP modelling has evolved over the years and has increasingly gained importance and influence in guiding drug development from early phase and through the clinic. QSP modelling has been used to identify and generate important biomarkers as well as the potential for patient specific, targeted therapies.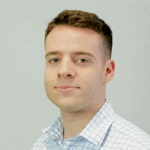 Whilst complexity of QSP models have developed over the years discussion sparked over how much complexity is needed. The discourse was fast paced and interesting, with the topic a continued theme throughout the conference. My personal takeaway/opinion was that there are pros and cons to simple vs complex models, outlined in the talks, and that when performing a modelling exercise, we should have the question of interest and context of use in mind, along with appreciation of the quality of data available and the variance and assumptions associated with the model.
Flora Musuamba (EMA M&S Working Party, EU) provided a regulatory perspective of the use of QSP models, detailing a risk informed credibility framework for assessment of a model and showed examples of the necessary qualification of a model depending on how much the drug development pathway was informed by the model.
I was fortunate enough to have the opportunity to present "Development of a methodology to enable non linear in vitro in vivo correlation for complex long-acting injections" as a poster at the conference. Whilst the approach is purely empirical and non-mechanistic, so may not be suitable for a systems biology themed conference, the discussions and questions posed around generating a mechanistic understanding of the key in vitro/ in vivo biopharmaceutical differences were of great interest and will help to progress approaches for establishing non-linear IVIVC of LAIs. 
I would like to thank all the presenters, scientists presenting posters and everyone else I met at the conference for a great time".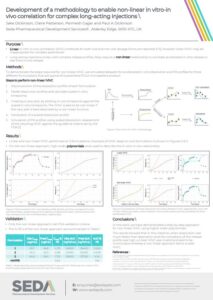 Jake's poster can be accessed by clicking on the poster image above.
Further details on Seda's in silico modelling services.