Small molecule kinase inhibitors are today one of the most important classes of drugs indicated in a number of progressive diseases, most notably cancer.
Recently published (Jan 2022) in the Journal of Medicinal Chemistry from scientists at Cancer Research UK is this informative review on this important class of drugs.
Small Molecule Kinase Inhibitor Drugs (1995–2021): Medical Indication, Pharmacology, and Synthesis (acs.org)
Seda scientists are proud to have been involved in the successful multidisciplinary teams behind the development and approval of at least 5 of these life-changing medications. This has included input to pharmaceutical development, clinical pharmacology and regulatory aspects such as:
Clinical pharmacology package including first in human protocol, DDI and selection of dose using the 'optimal biological dose' approach rather than MTD, predating FDA's Project Optimus initiative (osimertinib and gefitinib).
Understanding of complex drug absorption characteristics (gefitinib)
Rapid pharmaceutical development, product introduction and bridging (gefitinib, osimertinib and selumetinib).
Shaping the regulatory perceptions on Quality by Design with a focus on clinically relevant dissolution specifications (CRDS) (vandetinib, included in FDA QbD pilot program).
Development of preclinical formulations (osimertinib and selumetinib).
Partnering between a biotech and big pharma to facilitate a successful approval, launch and commercialisation (acalabrutinib).
Development of a novel salt form in combination with an enabled formulation to deliver an innovative paediatric product (selumetinib).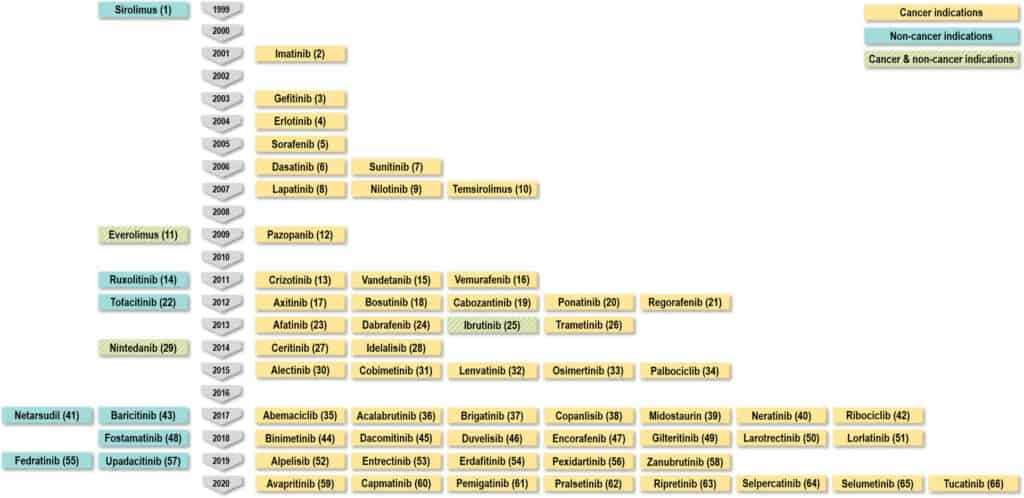 FDA-approved small molecule kinase inhibitors from 1999 to 2020 for the treatment of cancer (orange), noncancerous indications (blue), or both (orange-blue lines). Image reproduced without modification from J. Med. Chem. 2022, 65, 2, 1047-1131 under creative commons 4.0
There may be a small dip in the number of approvals in the next few years due to COVID interruptions but based on the number in clinical development including with Seda's current clients, the number of approvals is expected to continue to grow. There may even be opportunity to explore therapeutic application as antimicrobials.
Visit our website to find out more about our drug product services or connect with one of our scientific experts to find out how Seda scientists could assist in the design and manufacture and successful launch of your small molecule kinase inhibitors, and much more besides.